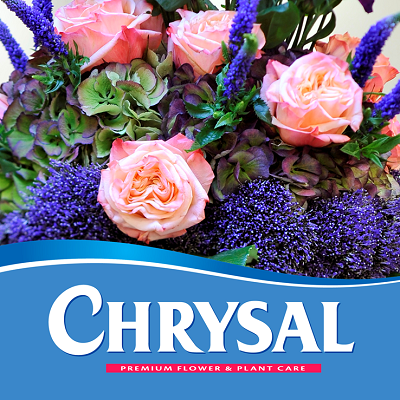 Chrysal
Biography
Chrysal helps to make your design stand out even longer!
Your floral designs deserve to be enjoyed as long as possible! Better flower care keeps your arrangements even fresher, maintains the quality that you stand for and increases the flower enjoyment for yourself and your customers. For more than 80 years, Chrysal has supplied premium flower care products which condition cut flowers for optimal quality. We now have an even more complete line of products to help all parties in the chain – from grower to shop to consumer – to optimise quality and minimise loss. Together with your high standards of floral design and our flower care products, we can make great steps to increase the vase life of flowers for even happier customers. That's the beauty of Chrysal.
Chrysal is sponsor of the Europa Cup with our products, and we also work with together with 2 of the contestants from UK and The Netherlands. We are looking forward to a great Europa Cup with lots of inspiration and beautiful, long-lasting floral designs.