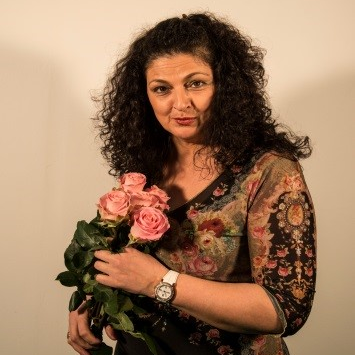 Biography
Mara Verbena was born in the Republic of San Marino on June 26, 1964. She grew up in the hotel run by her parents and opened her first flower shop, "Fior di Verbena", at the age of 18. She attended professional courses both in Italy and abroad, fast becoming the point of reference in her country for floral design.
Mara in 1993, driven by the desire to improve and increase the quality of cut flowers on sale, invented and patented "Fior d'Acqua", an innovative and rapidly succesful system for the displaying and preservation of cut flowers. (www.fiordacqua.com). She has also chosen a new hybrid rose to devote to her country called "Rosa San Marino", which in turn inspired the creation of a line of cosmetic products marketed in her shops.
Despite numerous work commitments she devotes much time to her family and friends, while also dedicating herself to social projects such as the Soroptimist Club of San Marino, Fondo Ambiente San Marino, and Fondazione Silvana Arbia.
Professional experience:
2015 Is among the florists who realize, with the Association "Piante e fiori d'Italia" and the "Guida i fioristi Italiani", the bouquets that are delivered to the participants of the 66th Italian Song Festival in San Remo.
2015 Collaborates on the preparations of the pavilions of San Marino and Kenya on the event Expo 2015
2015 Collaborates to the realization and organization of Rimini Flora Trade Show.
2015 Collaborates with the organization of the event "Il Barocco" at the fair My Plant and Garden in Milan.
2015 Collaborates with the school Pianeta Fiore to the preparation of Flora Firenze
2014 Makes floral arrangements of the film set "Grace of Monaco" starring Nicole Kidman.
2014 Collaborates with the Association "Piante e fiori d'Italia" to the realization of the first course of high specialization on Italian Floral Art Style which brought together teachers of the main Italian schools.
2013 Organizes in Giarre, for the "Garofano d'argento" prize, the first flower competition for Carnations.
2012 and 2016 Is a jury member of the floral floats in San Remo
2012 Attends at Euroflora with the "Guida i fioristi Italiani" group.
2007/2016 Organizes in San Marino "Florea": A market and cultural/floral show of plants and rare essences.
2006 Receives in Giarre (CT) the horticultural prize "Garofano d'Argento".
2002/2008 Becomess a member of the Interflora Italy Board.
1989 Participates in the regional selection of Italian Cup Federfiori, finishing in second place.
And much more..!
All session by Mara Verbena