Support & Vote for your favourite competitor at the European Floristry Championship 2016!
Introducing: the EUROPA CUP 2016 WEB APP!
Not everybody will be able to travel to Genoa, Italy for the Europa Cup 2016. Therefore Florint has partnered with Flowerweb to conduct live reporting from the event, enabling you to follow all the news and happenings at the Europa Cup!
During the Europa Cup, there will be daily email announcements from International Florist Organisation Florint about everything that happened in Genoa, including – of course – all the championship results.
Every day, Florint and Flowerweb will also send you a step-by-step explanation of the various floral arrangements, accompanied by one-on-one interviews with the competitors as they speak about their work!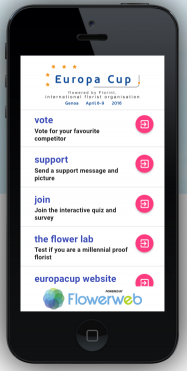 Florint & Flowerweb have also created a special "EUROPACUP VOTE & SUPPORT APP" that allows everyone to Vote for and Support their favourite competitors in Genoa. Plus, you can participate in a fun Europa cup Quiz & Survey!
So whether you are in Genoa or at home, you will be able to get in on all the action and participate. You can use the Europa Cup App on your computer, iPad or any Smartphone!
All you have to do is start up your internet browser and >> click here to visit the App
If you are at the event, you will be redirected automatically after logging in to the free Europa Cup WIFI internet.
You will only need to register once through Facebook, after which you will be able to use all the functions of the App as well as receive all the latest Europa Cup news via email. It's really that easy..!
Don't forget to follow the Europa Cup 2016 on your favourite social media channel. It will be the fastest way to receive updates from the event, and to see photos and videos of all the fantastic floral art!
Europa Cup on Facebook: https://www.facebook.com/EuropaCup2016/
Europa Cup Facebook for Italy: https://www.facebook.com/EC2016IT/
Europa Cup on Instagram: https://www.instagram.com/FlorintEC2016/
International Florist Organisation on Facebook: https://www.facebook.com/Florint.org/
International Florist Organisation on Twitter: https://twitter.com/FlorintDotOrg
Official Europa Cup Hashtag #FlorintEC2016 Highlights https://twitter.com/search?q=FlorintEC2016
---
How to Support your Favourite Competitor!
Just visit the EUROPA CUP WEB APP to upload your support picture!
You can support your favourite competitor by taking any photo and uploading it in the app. Your picture and personal message will be displayed in a slideshow on 4 large screens during the Europa Cup!
The picture can be a selfie, a group photo or something funny… Feel free to get creative! You are welcome to wear something flowery and humorous, or something in the colours of your competitor's country, for example.
Whether at home or present at the event, the selfie app works quite easily: you can use your computer, tablet or smartphone to upload a picture plus a little accompanying text. It will then be uploaded automatically and shown on a big screen at the event, so all the Europa Cup competitors can see the friends, family and fans supporting them!
You can view a gallery of all the amazing support photos that have been uploaded so far by clicking here!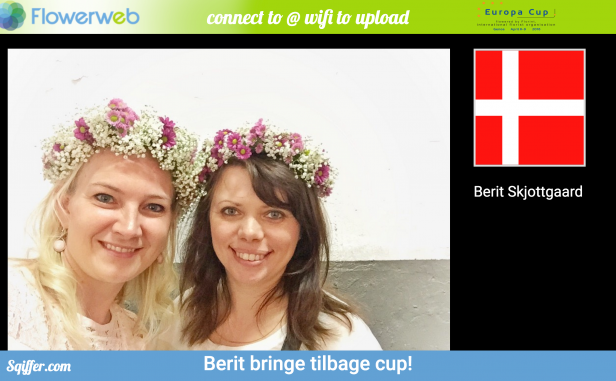 For more information about the App; the Smithers-Oasis People's Choice Award that will be handed out to the competitor with the most votes; creating and uploading a support picture, or how to take part in a Quiz through the Europa Cup App, have a look at the step by step explanation on this page!