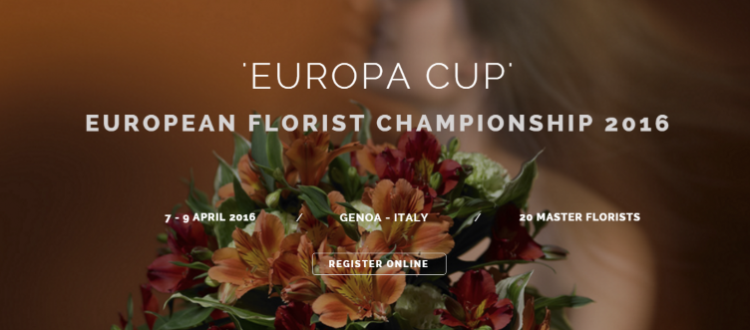 Europa Cup 2016: the official regulations and website!
The official competition regulations that will be in use during the 'Europa Cup' European Floristry Championship 2016 in Genoa, Italy, have been finalized! They are hereby made available to all the Europa Cup participants, as well as the championship's judges and other involved parties. Furthermore, the official Europa Cup 2016 website has been launched as well: have a look!
The Europa Cup regulations
The official regulations document includes key information on virtually everything concerning the Europa Cup European Florist Championship 2016. Details regarding enrollment, the competition area, technical design requirements, the Italy-inspired tasks of the various championship rounds, the judging system and assessment procedures, and so on.
Please download the Europa Cup 2016 regulations through the following link:
The Europa Cup website
The official Europa Cup 2016 website can, as of today, be found at europacup2016.com. We have tried to go with a modern, yet uncomplicated, design that makes it easy for visitors to find the information they are looking for. Moreover, it allows for easy online registration, which we figure would be helpful considering the amount of people interested in the European Florist Championship!
Don't want to miss anything when it comes to the European Floristry Championship 2016? Then we highly recommend you subscribe to Europa Cup 2016 updates by filling in your email address, in the black box found in the middle of this welcome page!
Please note, some details are yet to be filled in. Regarding the competition timetable, for example, and the complete list of participants as well as the ticket packages that will be on offer. But you will find the website 99% functional, and if you do happen to stumble upon something that does not look, or work, as it should, please do notify us by sending an email to info@europacup2016.com!
The new Europa Cup logo
Lastly, we have updated the official logo of the Europa Cup for Florists, to make it more easily recognizable. This new version, designed in the same style as the Florint logo, will be used for all the European Floristry Championships from now on (the contest takes place roughly every 4 years, in a different location each time). We hope you like it!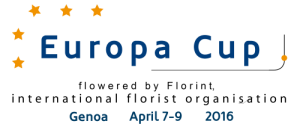 So, have you marked your calendar already? April 7-9: some of the most amazing floral arranging you will ever see in your life, in 'la Superba': the ancient city of Genoa, Italy. Book early, is all we can say. It's going to get crazy!
(And for all you hashtag aficionados: #FlorintEC2016 is the official Europa Cup 2016 tag, if you don't want to miss a thing once the spectacle starts!)